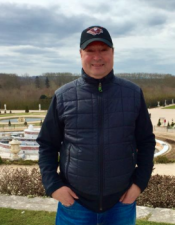 CoolBlue Diamond is a new division of the Charles A. Mark Co., a wholesale diamond company that has supplied diamonds to some of the finest jewelry stores across the Midwest. The Charles A. Mark Co. has been importing and distributing diamonds for over 75 years, spanning over 3 generations!
Richard Mark, the president of the Charles A. Mark Co., has spent over 37 years buying and selling diamonds to over 200 stores in the Midwest area. After graduating from the University of Minnesota, Richard began taking over, and expanding the second generation business from his father Charles, who was beginning to retire after 50 years in the diamond industry. Richard also follows in the footsteps of two grandfathers, who were in the diamond import business, one of which served as the president of the New York Diamond Club for a number of years.
Through observing the various way retailers, and self proclaimed wholesalers present the selling process, Richard made the decision to develop CoolBlue Diamond, a personalized, and exclusive diamond buying experience, where you get to consult and purchase directly through the importer at a GENUINE wholesale cost.
Offering ABSOLUTE guaranteed lower pricing, incomparable personalized service, and complete transparency in a no pressure environment. We are here to take all of the fear and mystery out of the diamond purchase experience.